Are you looking for some heartfelt missing mom quotes to help comfort you as you reflect on the loss of your mom and the beautiful memories you both shared?
Then these quotes about missing mom who passed away are sure to have you feeling close to her even though she is no longer here.
The pain you feel when you lose a mother is hard to put into words.
Especially on days of celebration such as Mother's Day, birthdays, and Christmas.
But take solace in knowing that her love, guidance, and beautiful memories shared are always with you.
So, if you are missing your mom, whether it be a special day or not, then we hope these quotes about losing a mother will bring comfort and peace to you as you reflect on the special bond you share.
Here you'll find meaningful missing mother quotes, missing mom quotes from daughter, missing mom quotes from son, losing a mother quotes from daughter, missing my mom in heaven quotes, mother passing away quotes, and more.
And if you find comfort in these quotes about missing mom, make sure you check out these heartfelt mother daughter quotes, mother son quotes, and family quotes! Or even these beautiful motherhood quotes.
Heartfelt Missing Mom Quotes
'I never fully understood what the words 'I miss you' meant until I reached for my mom's hand and it wasn't there reaching back.'
Editors note: You are welcome to share and use the original loss of a mother quotes and images contained below. Please give credit back to our page. Non-commercial use only.
Quotes About Missing Mom Who Passed Away
'And she missed her mom very much, even long after she was gone.'
'Mom sometimes I wish you could come back, but I don't want you to suffer again. I know you are with me and I will always love and miss you with all my heart. Until we meet again!'
'Whenever I miss my mom, I think about all the beautiful memories we made together and how blessed I was to have her in my life. I wouldn't trade those moments for the world.'
'Love as powerful as your mother's for you leaves its own mark. To have been loved so deeply, even though the person who loved us is gone, will give us some protection forever.' – J.K. Rowling
'No matter how old I get…I'll always need my mom.'
'My mother always taught me to be strong, because she knew that one day I would need the strength to bear her loss.'
'Sadness is not being able to give your mom a hug.'
'I miss my mom so much. I would give anything to just hug her or to hear her say my name again.'
'Mom, your life was a blessing and your memory a treasure. You are loved beyond words and missed beyond measure.'
'Mom you will always be loved, never forgotten, and forever missed.'
'I miss my mom every single moment of every single day.'
Quotes About Losing A Mother
'There is something about losing a mother that is permanent and inexpressible – a wound that will never quite heal.' – Susan Wiggs
'A mother's hug lasts long after she lets go.'
'Her absence is like the sky, spread over everything.' – C.S. Lewis
'I will never forget the things you taught me and how loved you made me feel. Mom, you are forever missed.'
'I miss my mom. I miss her smile, her voice, her sense of humor, her hugs. I miss the ways she made everything feel better. I just miss her.'
'You never get over losing your mother, you miss her for the rest of your days.'
'Losing a mother is a pain that cannot be described in words. It is virtually impossible to move on from the memory of losing the woman who sacrificed happiness in her own life so that you could have a better one. A mother's love is truly irreplaceable.'
'When a mother dies, we lose a piece of who we are. We lose the person whose story provides the beginning of our own.'
'I just want my mom. I miss her so much.'
'I wish I could say losing a mother gets easier, but it doesn't. I still miss her every day.'
Missing Mom Quotes From Daughter
'Mom, I could really do with one of your hugs right now. I miss you so much.'
'Mom, I haven't heard your voice in years, but my heart still has conversations with you every day.'
'No daughter and mother ever live apart, no matter what the distance is between them.' – Christie Watson
'I miss the warmth of your gentle hug and the love I felt when my arms were wrapped around you. I miss seeing your beautiful smile and the sound of your voice saying my name. I miss hearing you say, 'I love you' and me saying, 'I love you' in return.' ― Millie P. Lorenz
'I miss you so much, mom. I have so many things left I want to tell you.'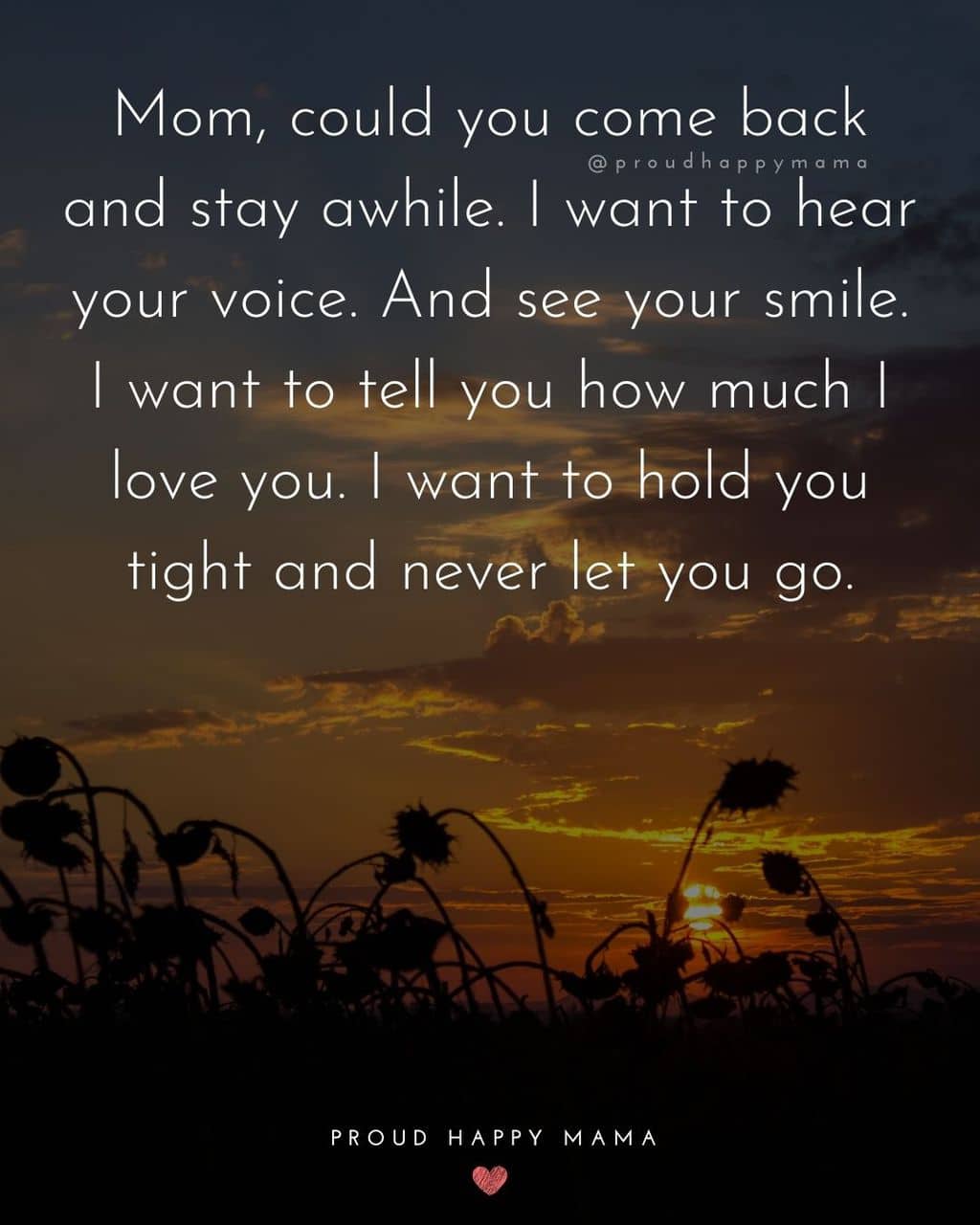 'Mom, could you come back and stay awhile. I want to hear your voice. And see your smile. I want to tell you how much I love you. I want to hold you tight and never let you go.'
'There is no death, daughter. People only die when we forget them," my mother explained shortly before she left me. "If you can remember me, I will be with you always."' — Isabel Allende
Missing Mom Quotes From Son
'All that I am, or hope to be, I owe to my angel mother.' – Abraham Lincoln
'Dear mom, I miss you more than words can say. Love your son.'
'I am so grateful that I was the lucky one that got to be your son. You have filled my life with so much love and precious memories. You will always be missed, my beautiful mom.'
'A son can never truly lose his mother, she is forever a part of him.'
Missing My Mom In Heaven Quotes
'To my mother in heaven, thank you for always loving me and guiding me. Even though you are no longer here with me I can still feel your love guiding me. You are always in my heart. I love you and miss you dearly.'
'I wish heaven had visiting hours so I could see and speak to my mom again. I miss her so much.'
'Mom, since the day you went to heaven, I have never been the same. I miss you more than words can say.'
'Mom, I know you are watching and listening from up above in heaven. I hope I am making you proud.'
'My mom might be in heaven, but she is forever in my heart.'
Mother Passing Away Quotes
'I cannot forget my mother. She is my bridge. When I needed to get across, she steadied herself long enough for me to run across safely.' ― Renita Weems
'Mom, this is not good-bye, because wherever you are you will always be in my heart.'
'My mind knows you are in a better place mom, where there is no pain. And you are at peace. I understand that, but I just wish I could explain that to my heart.'
'Dear mom, in life, we loved you dearly, in death, we love you still. In our hearts you hold a place, no one else will ever fill.'
'Mothers never really die, they just keep the house up in the sky, They polish the sun by day and light the stars that shine at night, keep the moonbeams silvery bright and in the heavenly home above they wait to welcome those they love.'
'Even though my mother has passed away; her love still guides. And although I cannot see her; she is always at my side.'
'Mom, your memory is a treasure I keep locked in my heart.'
Missing Mother Quotes
'Missing your mother and not being able to see her is the worst feeling ever.'
'Time may pass, but not one day goes by that my mother isn't in my heart. The day she died is not just a date on a calendar, it was the day my very existence changed forever.'
'Some days I wish I could go back and relive days with my mother. Not to change anything, but just to feel a few things twice.'
'A mother is never truly gone; she is always connected to you by heartstrings into infinity.'
'Mothers never go away, they walk beside us every day… unseen, unheard, but always near, still loved, still missed, and very dear.'
'My mother is a never-ending song in my heart of comfort, happiness, and being. I may sometimes forget the words but I always remember the tune.' – Graycie Harmon
Final Thoughts On I Miss My Mom Quotes
It's hard to put into words the heartbreak of missing your mother.
We hope these missing my mom in heaven quotes and missing mother quotes bring you comfort.
And if you're looking for more great quotes, then check out these missing dad quotes, missing grandma quotes, missing son quotes, and missing my daughter quotes.