Are you looking for the best new baby quotes and sayings to help welcome a newborn baby into the world?
Then you have come to the right place!
There is no doubt that the arrival of a baby is an exciting, emotion filled moment, especially if you are a mother for the first time. Afterall, the birth of a baby represents life, hope, and the promise of unconditional love.
And these new baby wishes are perfect for capturing that moment.
So, whether you're looking for some beautiful baby girl quotes, baby quotes for a boy, or just some sweet inspirational motherhood quotes, then these beautiful quotes about newborns are sure to inspire you.
Editor's note: You are welcome to share and use the original images and quotes about a new baby contained below. Please give credit back to our page via a do-follow link to proudhappymama.com/new-baby-quotes-and-sayings. Non-commercial use only.
'May you always know, little one, that you were wished for, longed for, prayed for, and will be forever loved.'
>> You may also like: 27 Inspirational Pregnancy Quotes for Expecting Mothers
NEW BABY QUOTES
This post contains affiliate links. See our full disclosure here
As you count down to the due date of this precious little baby, you are probably looking for ways to celebrate their arrival.
We think these quotes about newborn babies make for the extra special touch to any pregnancy announcement, baby shower gift, birth announcement, or personalized baby gift.
We also love using mom and baby quotes to caption for all those beautiful newborn photos on social media or using them to create a beautiful memory book to celebrate your new baby.
>> Check out our favorite baby memory books.
SHORT BABY QUOTES
These short and sweet sayings are the perfect way to describe the joy and exciting that comes with the arrival of a new baby. Use one for the perfect newborn baby wishes to congratulate the parents or use the shorter quote for a personalized gift like a baby keepsake box to treasure all those beautiful baby memories!
'So tiny, so small, so loved by all…'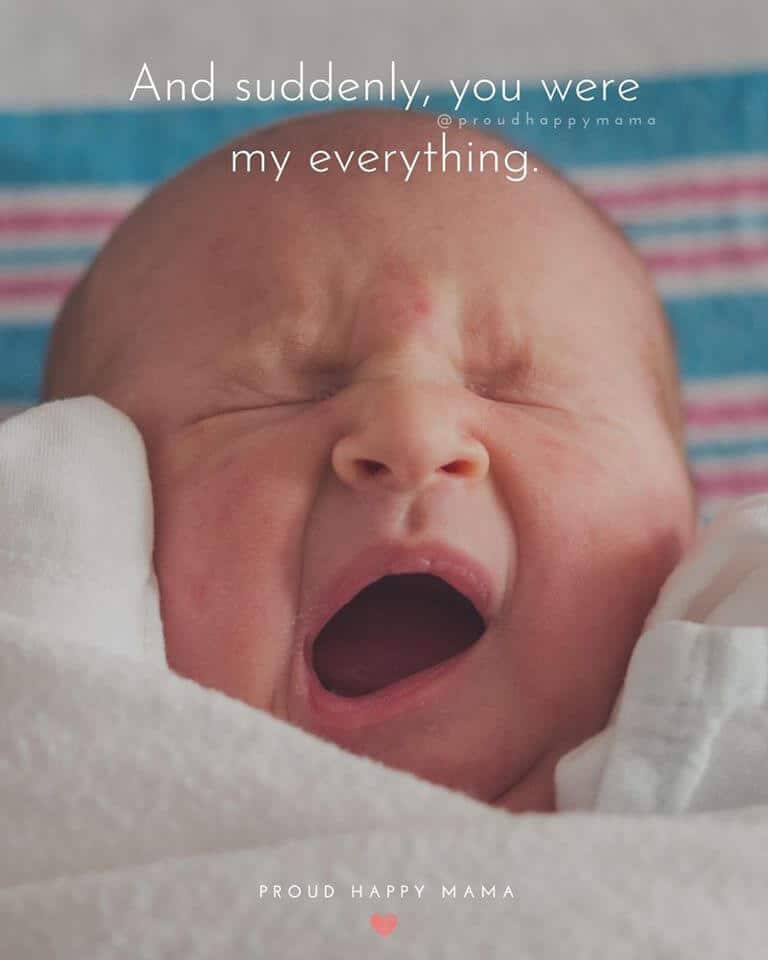 'And suddenly, you were my everything.'
'You're my definition of perfect.'
'We made a wish and you came true.'
'The littlest feet make the biggest footprints in our hearts.'
'How wonderful life is now that you are in the world.'
'Your first breathe took ours away.'
'These are the days I never want to forget.'
NEWBORN QUOTES
'You will always be the miracle that makes my life complete.'
'For all the things my hands have held the best by far is you.'
'The first day of your life, was the best day of mine.'
'A baby has a special way of adding joy to your life each and every day.'
'From the moment I held you in my arms, you held a special place in my heart.'
'Happiness is…holding your baby in your arms for the very first time.'
'Having a newborn brings a whole new meaning to the saying 'It's the little things in life'.'
'There is no better feeling in the world than holding your precious child.'
'A baby will make your heart fuller, your home happier, and your future brighter.'
CUTE BABY QUOTES
'Sometimes, it's the smallest things take up the most room in your heart.'
'Ten little fingers, ten perfect toes, you fill our hearts with love that overflows.'
'Twinkle Twinkle little star, I want you always know just how loved you really are.'
'Our life together has just begun, and I can't wait to see all the amazing things that await us.'
'The most valuable gift in life is a child to call your own.'
'I don't know who you'll be, but I know you'll be my everything.'
'A child is the most beautiful gift this world has to give.'
NEW MOM QUOTES
'I carried you every second of your life and I'll love you every second of mine.'
'It makes me smile knowing that my sweet little baby is half me and half the person I love.'
'You're the best thing I have ever waited for.'
'The most magical day of my life was the day I became a mother.'
'My life made sense the moment I saw you.'
'Becoming a mama was the best decision I ever made.'
'My life is and will always be, for my children, no matter how big they get.'
'No one prepared me for just how much love I would have for my child.'
'The day you came into my life, I knew what my purpose was. To love and protect you with everything I have.'
BABY GIRL QUOTES
'Daddy's little girl and mommy's whole world.'
'Let her sleep, for when she wakes, she will move mountains.'
'Never forget, you are so so very loved.'
'Such a big miracle in such a little girl.'
'There is nothing quite like that perfect moment when your holding your baby in your arms and realize you would do absolutely anything for them.'
'The love a mother has for her child is immeasurable.'
'She is the exclamation point in the happiest sentence I could ever write.'
'Isn't she lovely.'
BABY BOY QUOTES
'His little hands stole my heart…and his little feet ran away with it.'
'Sweet boy, you are more than we every expected and better than we ever imagined.'
'You are loved for the boy you are, the man you will become, and the precious son you will always be.'
'When a baby is born a life of endless possibilities lays ahead.'
'Let me love you a little more before you're not little anymore.'
'I asked God for a life full of love and happiness. He sent me my family.'
'No one ever wanted anything more than we wanted you.'
QUOTES ABOUT BABIES AND LOVE
'Happiness is homemade.'
'Just when you think you know love, someone so little and precious comes along to remind you just how big love really is.'
'You are truly loved little one.'
'Your little family is the best team you could ever have.'
'Loving you is a wonderful way to spend a lifetime.'
'My little family is my everything.'
'A baby will make love stronger, days shorter, nights longer, bankroll smaller, home happier, clothes shabbier, the past forgotten, and the future worth living for.'
KNOW ANOTHER MAMA THAT NEEDS TO READ THIS?
Then don't forget to share on Facebook or Pin this to your motherhood related Pinterest boards!
It might be just what that mama needs to hear!