Are you looking for the best new baby quotes and sayings to help welcome your newborn baby into the world?
Then these new born baby quotes are sure to inspire you!
Any new parent will tell you that the arrival of a baby is an exciting, emotion filled moment, especially if you are a mother for the first time.
After all, the birth of a baby represents life, hope, and the promise of unconditional love.
So, to help you welcome your new baby into the world, we have put together these beautiful new baby wishes that are perfect for capturing those heartfelt new baby moments.
So, whether you're looking for the best baby quotes, newborn quotes, newborn baby quotes, quotes for new born baby, baby arrival quotes, welcome baby quotes, or message for new baby then these beautiful quotes about newborns are sure to inspire you!
And if you love these new baby born quotes, make sure to check out these sweet baby girl quotes, baby boy quotes, pregnancy quotes, and family quotes. Or even these motherhood quotes!
'May you always know, little one, that you were wished for, longed for, prayed for, and will be forever loved.'
Editor's note: You are welcome to share and use the original images and quotes about a new baby contained below. Please give credit back to our page. Non-commercial use only.
Best New Baby Quotes
As you count down to the due date of this precious little baby, you are probably looking for ways to celebrate their arrival.
We think these quotes about newborn babies make for the extra special touch to any pregnancy announcement, baby shower gift, birth announcement, or new parents gift.
We also love using mom and baby quotes as a newborn baby caption for all those beautiful newborn photos on social media or using them to create a beautiful memory book to celebrate your new baby.
>> Check out our favorite baby memory books.
Newborn Baby Quotes
These short and sweet newborn baby sayings are the perfect way to describe the joy and exciting that comes with the arrival of a new baby. Use one for the perfect new born baby message to congratulate the parents.
'So tiny, so small, so loved by all…'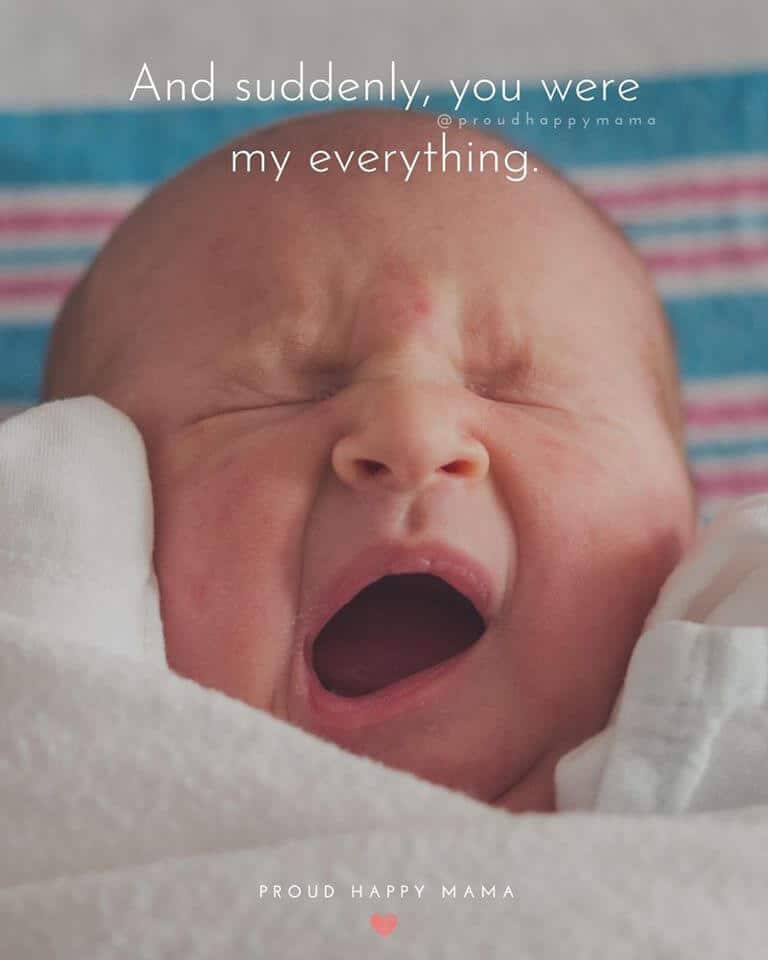 'And suddenly, you were my everything.'
'You're my definition of perfect.'
'We made a wish and you came true.'
'The littlest feet make the biggest footprints in our hearts.'
'How wonderful life is now that you are in the world.'
'Your first breathe took ours away.'
'These are the days I never want to forget.'
Newborn Quotes
'You will always be the miracle that makes my life complete.'
'For all the things my hands have held the best by far is you.'
'The first day of your life, was the best day of mine.'
'A baby has a special way of adding joy to your life each and every day.'
'From the moment I held you in my arms, you held a special place in my heart.'
'Happiness is…holding your baby in your arms for the very first time.'
'When I look at my newborn baby, I know a little bit of heaven is looking back at me.'
'There is no better feeling in the world than holding your precious child.'
'A baby will make your heart fuller, your home happier, and your future brighter.'
Baby Arrival Quotes
'Sometimes, it's the smallest things take up the most room in your heart.'
'Ten little fingers, ten perfect toes, you fill our hearts with love that overflows.'
'Twinkle Twinkle little star, I want you always know just how loved you really are.'
'Our life together has just begun, and I can't wait to see all the amazing things that await us.'
'The most valuable gift in life is a child to call your own.'
'I don't know who you'll be, but I know you'll be my everything.'
'A child is the most beautiful gift this world has to give.'
Welcome To The World Baby Quotes
'I carried you every second of your life and I'll love you every second of mine.'
'It makes me smile knowing that my sweet little baby is half me and half the person I love.'
'You're the best thing I have ever waited for.'
'The most magical day of my life was the day I became a mother.'
'My life made sense the moment I saw you.'
'Becoming a mama was the best decision I ever made.'
'My life is and will always be, for my children, no matter how big they get.'
'No one prepared me for just how much love I would have for my child.'
'The day you came into my life, I knew what my purpose was. To love and protect you with everything I have.'
'When you are a new mom, nobody really tells you how hard it will be. It is hard to describe the utter exhaustion, the self-doubt, and the number of times you will feel clueless about what you are doing. But there are also no words to describe the unbelievable feeling of love and pride of being a new mom. Knowing from the moment you held your baby in your arms, that your baby will hold your heart for the rest of your life and that you will do whatever it takes to do right by them.'
'Being a new mom is hard. Some days, you will feel like you can do it all, and some days all you will have done is kept your baby safe and fed. But whatever your day, you still show up and love them hard, and that dear mama is what matters.'
'As a new mom there will plenty of times that your baby will surprise you with all the things that they can do, but mama you are also going to surprise yourself plenty of times along the way too. You are going to do things you never thought you were capable of for the sake of your little baby.'
Newborn Love Quotes
'Daddy's little girl and mommy's whole world.'
'Something tells me I am going to love him forever.'
'Let her sleep, for when she wakes, she will move mountains.'
'His little hands stole my heart…and his little feet ran away with it.'
'Never forget, you are so so very loved.'
'There is nothing quite like that perfect moment when your holding your baby in your arms and realize you would do absolutely anything for them.'
'The love a mother has for her child is immeasurable.'
'She is the exclamation point in the happiest sentence I could ever write.'
'I asked God for a life full of love and happiness. He sent me my family.'
'Isn't she lovely.'
Welcome To This World Baby Quotes
'Sweet boy, you are more than we every expected and better than we ever imagined.'
'Such a big miracle in such a little girl.'
'You are loved for the boy you are, the man you will become, and the precious son you will always be.'
'When a baby is born a life of endless possibilities lays ahead.'
'Let me love you a little more before you're not little anymore.'
'No one ever wanted anything more than we wanted you.'
New Born Baby Quotes
'Happiness is homemade.'
'Just when you think you know love, someone so little and precious comes along to remind you just how big love really is.'
'You are truly loved little one.'
'Your little family is the best team you could ever have.'
'Loving you is a wonderful way to spend a lifetime.'
'My little family is my everything.'
'A baby will make love stronger, days shorter, nights longer, bankroll smaller, home happier, clothes shabbier, the past forgotten, and the future worth living for.'
Baby Born Quotes
'If my baby grows up knowing just one thing, I hope that they know just how loved they really are.'
'A baby is every beautiful word that you can possibly think of.'
'Being a mom means that you will love your baby even more than you love yourself.'
'I am proud of many things in life but nothing beats being a mother.'
'Your baby may not understand when you tell them that you love them, but they certainly will feel the immense love that is in your heart.'
'My baby is 50 percent me, 50 percent daddy, and 100 percent perfect.'
'It's an incredible feeling when you realize you are holding everything you every wished for in your arms.'
'A baby is the purest form of love that you can ever know.'
'Having a baby changes in more ways than you could ever imagine. This tiny person instantly becomes the most important thing in the world to you. They become the reason why you want to wake up every day.'
'My kids aren't just my children, they are my heart and soul.'
'I might not be able to my little baby everything they want in life, but what I can give them is my unconditional love, plenty of hugs and kisses, and a happy home.'
'We never know the love of a mother until we become mother ourselves.'
Welcome Baby Quotes
'My sweet baby, when I look at you, I am constantly reminded of how much love there is in my life.'
'Every time I hear a little coo or chuckle sound from my baby, I can't help but feel happy, like it is the most joyful song I have every heard.'
'It is simple things like a precious smile from your baby that make it all worth it.'
'Isn't it an incredible feeling, knowing that your baby just smiled because they saw you.'
'A baby always finds a way of adding joy to your every day.'
Caption For New Born Baby
'It's an incredible moment holding you baby for the first time, knowing that this is just the start of all the incredible moments you are going to share together.'
'Raising a baby is the hardest thing that you will probably do in your life, but it will also be the most incredible thing you will ever do.'
'When they finally place your baby in your arms and you study their tiny face, it is like all the pain just disappears and is replaced with this surge of overwhelming, unconditional love that you never felt before.'
'Having a baby is the start of your very own love story. From the moment you meet them you instantly know that person is going to be someone you love your whole entire life with everything you've got.'
'You never realize how much you were missing a baby in your life until you have one.'
'A baby is a lot like a wishing well because everyone likes to put their hopes, wishes, dreams, and two cents into it.'
'Up until this point in my life, everything I did was for me, now everything I do in life is for my little family.'
'No matter what happens, my babies will always come first. It is that simple.'
'Perfection is a newborn baby.'
'Shower your baby with your time, love, and care, then watch them bloom into something more beautiful than you could ever imagine.'
'Babies are precious gifts, wrapped in love with futures tied with dreams.'
'When you meet your baby for the first time, it is like meeting your reason to live.'
Short New Baby Quotes
'A baby is a little bit of heaven sent down to earth.'
'Every good and perfect gift is from above. – James 1:17'
'My baby has no idea of the lifetime of love that awaits them.'
'Hold on to the tiny moments and cherish the little snuggles. They grow up so fast.'
'No matter how big my baby gets, they will always be my baby.'
'Every baby born gives us a chance to make the world a better place.'
'I know I only get one shot to raise my baby, so I am going to give it everything I've got.'
'Babies just make the world a better place.'
'My baby has changed everything in my life in the best way possible.'
'You're my perfection. And even that is understatement.'
'There is something intoxicating about the smell of a newborn baby.'
'A baby is born with a need to be loved and never outgrows it.'
Final Thoughts on Welcome To The World Little One Quotes
There is something magical about holding your new baby in your arms for the very first time.
We hope these welcoming new born baby quotes and quotes for new born baby have put into words those new baby feels!
And if you're looking for more great quotes, then check out these inspirational quotes for new parents, comforting rainbow baby quotes, baby love quotes, and baby smile quotes.