Are you looking for some encouraging mom quotes to lift you up?
Then these words of encouragement for mothers are sure to inspire you even on the hardest of day
Whether you are a new mom or experienced, SAHM or working mom, there is no doubt that we all need a few words of encouragement as moms to help us as we navigate our way through motherhood.
Especially on those extra hard days.
We all need a little reminder that as a mother we are doing a great job raising our children, even when we feel exhausted and as though we are failing.
So, let these encouraging mom quotes and sayings and encouraging quotes for mothers inspire you and remind you how strong and amazing of a mother you really are!
From the best inspiring mom quotes to words of encouragement for moms you'll find our favorite inspirational quotes for mothers here!
And if you loves these encouraging quotes for mothers, you'll also love these motherhood quotes and strong mom quotes!
Best

Encouraging Mom Quotes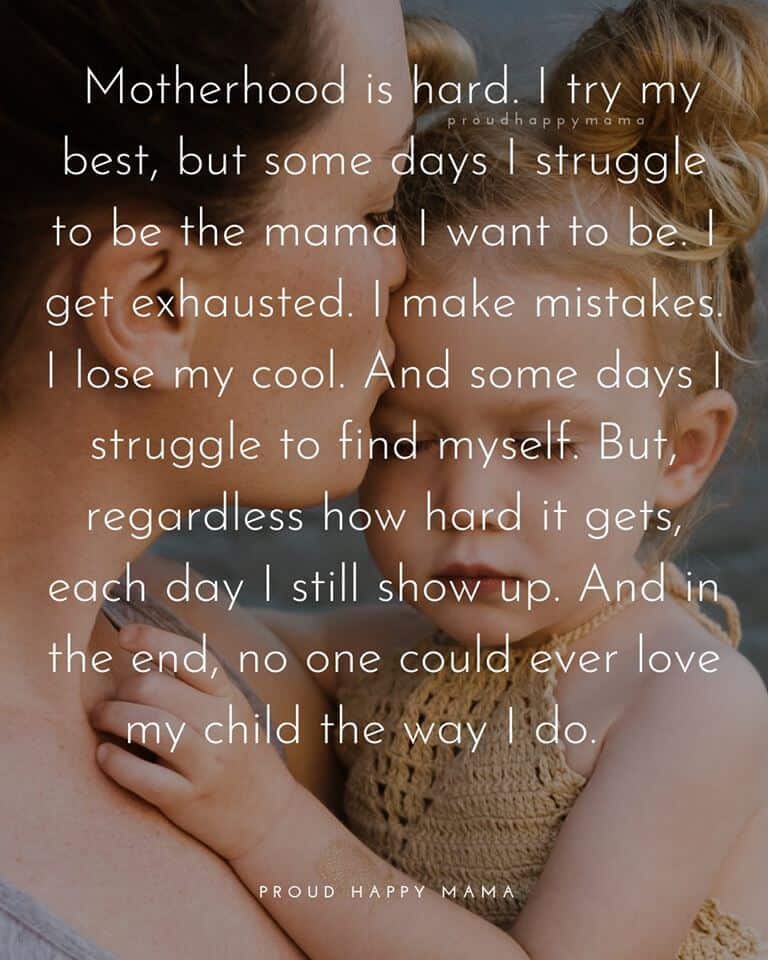 'Motherhood is hard. I try my best, but some days I struggle to be the mama I want to be. I get exhausted. I make mistakes. I lose my cool. And some days I struggle to find myself. But, regardless how hard it gets, each day I still show up. And in the end, no one could ever love my child the way I do.'
Editors note: You are welcome to share and use the original images and inspirational quotes about motherhood below. Please give credit back to our page. Non-commercial use only.
Being A Mom Is Hard Quotes
Being a mom is hard.
It takes strength each and every day to put someone else's needs above your own, without out complaint.
It takes strength to show up when you feel exhausted.
Strength to pour your love into your family, even though your cup feels empty.
As mothers, we often doubt ourselves, but truth be told, we are stronger than we often think we are, and we think these inspirational quotes for mothers help capture that strength perfectly: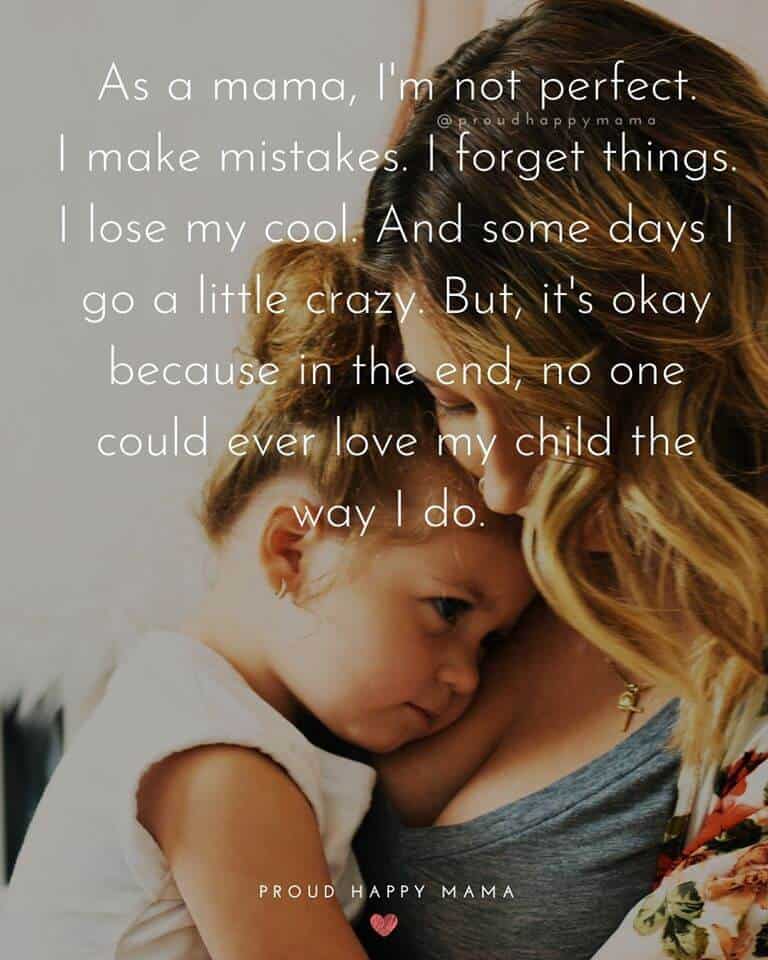 'As a mama, I'm not perfect. I make mistakes. I forget things. I lose my cool. And some days I go a little crazy. But, it's okay because in the end, no one could ever love my child the way I do.'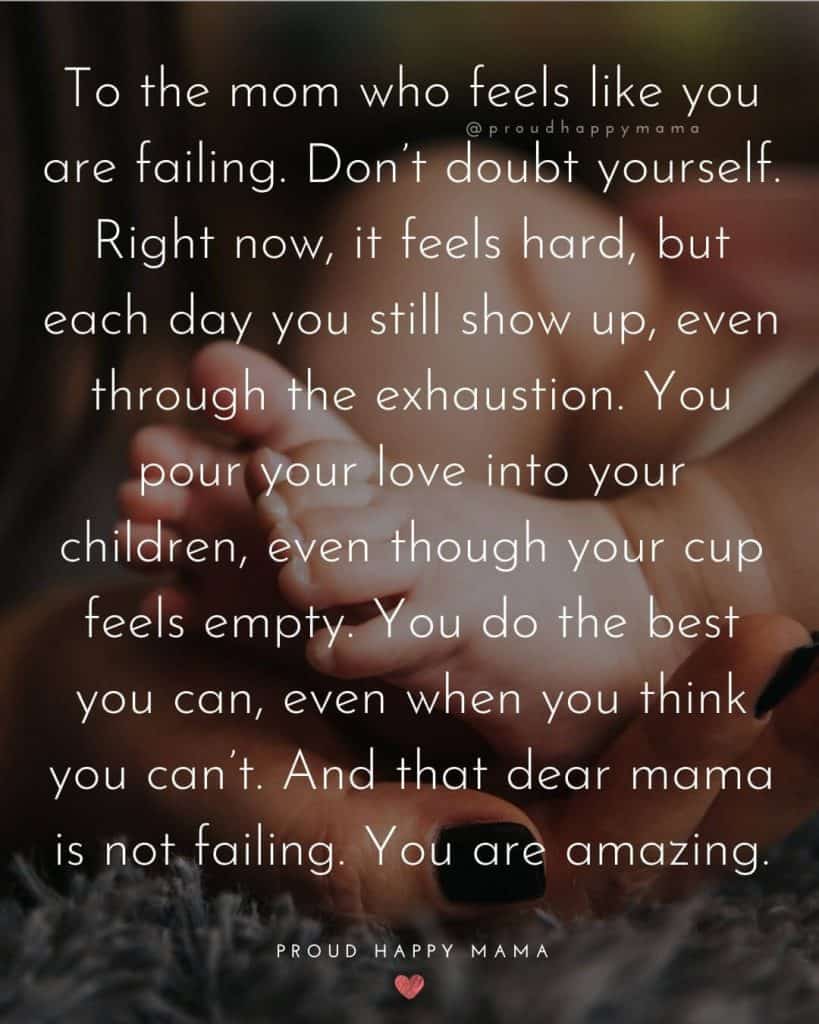 'To the mom who feels like you are failing. Don't doubt yourself. Right now, it feels hard, but each day you still show up, even through the exhaustion. You pour your love into your children, even though your cup feels empty. You do the best you can, even when you think you can't. And that dear mama is not failing. You are amazing.'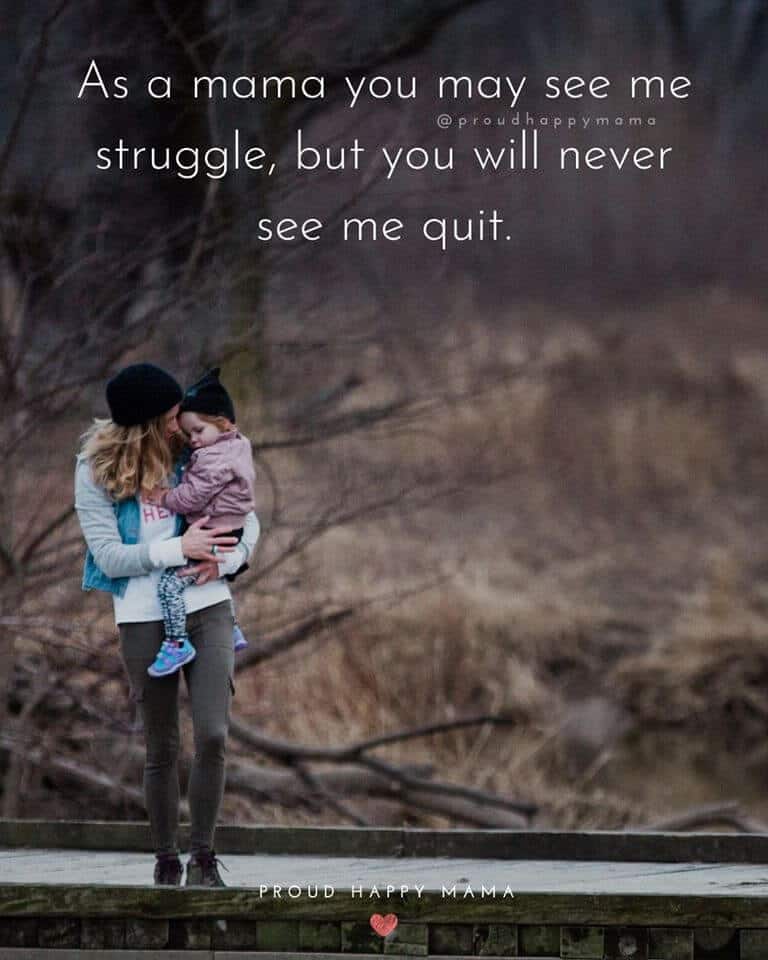 'As a mama, you may see me struggle, but you will never see me quit.'
'I see you there mama, trying your best. I see you showing up each day, even though you feel exhausted. I see you making tough choices for your family even when your not sure if they are right. I see you working tirelessly, even when it seems never ending. I see you doing an amazing job, even though you doubt yourself. I see you mama, and you are more than enough.'
'It's ok to have strengths and weaknesses as a mama. Some mamas play games, others listen well, some cook with love, and others are great encouragers. We don't have to be everything, every day to our kids. We just need to show up and love them hard.'
Encouraging Words For Moms
Short and sweet. These encouraging mom short quotes get straight to the point in giving you that extra bit of encouragement you are looking for:
'Whenever you are feeling hopeless, hug your child. It's amazing how they remind us our life is always full of love.'
'Sometimes when I need a miracle, I look into my child's eyes and realize I already have one.'
'Never feel guilty for doing what is best for you and your family.'
'My child is my reason for living, the love of my life, and the holder of my heart. I love my child more than life itself.'
'If you're worried about being a good mother, it means you already are one.'
Encouraging Words For Mothers
Let these quotes about being a mother encourage you on your motherhood journey:
'Being a mama isn't easy, but it is definitely the best job anyone could ever have.'
'Being a mama is worth all the exhaustion. It's worth every early wake up, every sleepless night, every pile of washing, every mess. All those hard days are all worth it. Because nothing in life feels as incredible as those little arms wrapped around you. Nothing beats hearing your child say, 'I love you'. No matter how hard it gets, it is all worth it just to be their mama.'
'Being a mama isn't easy. Day and night, I am on call. I exhausted, both physically and mentally. Some days I wake up and I don't know how I am going to make it through, but I always do. Every day I do my best to show up and give it my all. I give it my all, because my children need me to. I give it my all, because I am their mama.'
'Becoming a mother doesn't change you, it makes you realize the little people you created deserve the very best of you.'
'Being a mother is the most challenging and the most rewarding job in the world.'
Inspirational Quotes For Struggling Moms
There is no doubt that being a mom is incredible!
But that doesn't mean it isn't without it's challenges.
Let's face it, as amazing and magical as motherhood is, motherhood is also really hard.
And sometimes we just need to hear a few words of encouragement to remind us that we are not alone in our struggles.
So, let these encouraging motherhood sayings and inspirational quotes speak to you:
'My home is filled with toys, has fingerprints on everything, and is never quiet. My hair is usually a mess and I am always tired, but there is always love and laughter. In 20 years, my kids won't remember the house or my hair, but they will remember the quality time we spent together and the love they felt.'
'Motherhood is hard, but totally worth it just for the honor of having someone call you Mom.'
'Make the most of today why it is right here. Play that game, sing that song, read one more book, enjoy those cuddles. Treasure all those precious little moments. Because at the end of your life, you'll never look back and think, 'I spent too much time with my kids.''
'Sometimes all it takes is a little hand reaching out to hold yours, to remind you, without a doubt, that these are the best days of your life.'
'There is no one size fits all when it comes to being a mom and raising a child. So, let's all just do our best and support each other through it.'
Encouraging Quotes For Moms
'Mama, you are doing better than you think you are. Believe in yourself.'
'Life is tough, my darling, but so are you.' – Stephanie Bennett-Henry
'Successful mothers are not the ones that never struggles. They are the ones that never give up, despite the struggles.' – Sharon Jaynes
'There is no way to be a perfect mother, but a million ways to be a good one.' – Jill Churchill
'Mama, you are enough. You are so much more than enough.'
'The days are long, but the years are short.' – Gretchen Rubin
Mom Motivational Quotes
'You're always going to wonder if you're doing things wrong, but that's what it means to be a mom; to care so much about someone else that you just want to be as perfect as possible.' – Naya Rivera
'Every day may not be good, but there is something good in every day. You just need to look for it.'
'The most important work you will ever do will be within the walls of your home.'
'Being a mom is the best reason you'll ever have to take care of you.'
Encouraging Words To A Mother
'Mama, you are exactly what your child needs. Don't ever doubt that, not even for a second.'
'Bad moments don't make bad moms.' – Lisa Terkeurst
'Mama, it is okay to lower your expectations about what you can accomplish in a day. Some days, it will take everything you've got to keep your baby safe, warm, fed, and loved. And that is more than enough.'
'Be kind to yourself. You are amazing. You are good enough. You are worth it.'
'You can still be a mess and a good mom. You are allowed to be both.'
'Mama, this is just a chapter. Not your whole story.'
Uplifting Quotes For Moms
'Dear mama, you are amazing, strong, brave, and wonderful. Remember that today.'
'I know some days it can be really hard being a mom, but always remember that there is a strength within you that is greater than any storm.'
'Mama, don't doubt yourself. You already have what it takes.'
'Mama, you've got this.'
Quotes To Encourage Mothers
'The most powerful way to change the world is to live in front of our children the way we would like the world to be.' – Graham White
'Some days, she has no idea how she'll do it. But every single day she gets it done.'
'There is no other mom like you, and that, dear mama, is your superpower.'
'Live in the moment and make it so beautiful that it will be worth remembering.' – Fanny Crosby
'Finding balance as a mother means accepting your imperfections.' – Mary Organizes
Encouragement For Moms
'If at the end of the day everyone feels loved, then you have done enough.'
'Be strong enough to stand alone, smart enough to know when you need help, and brave enough to ask for it.'
'No influence is so powerful as that of the mother.' – Sarah Josepha Hale
'Behind every great child is a mom pretty sure she is screwing it up.'
'It's not what you do for your children but what you have taught them to do for themselves that will make them successful human beings.' – Ann Landers
Final Thoughts on Being a Mother Is Not Easy Quotes
Being a mother is not easy but it is also one of the most rewarding things you will ever do.
We hope these inspirational mom quotes and amazing mother quotes have been an encouragement to you!
And if you're looking for more great quotes, then check out these new baby quotes, best quotes about parents, and inspirational quotes for new parents.